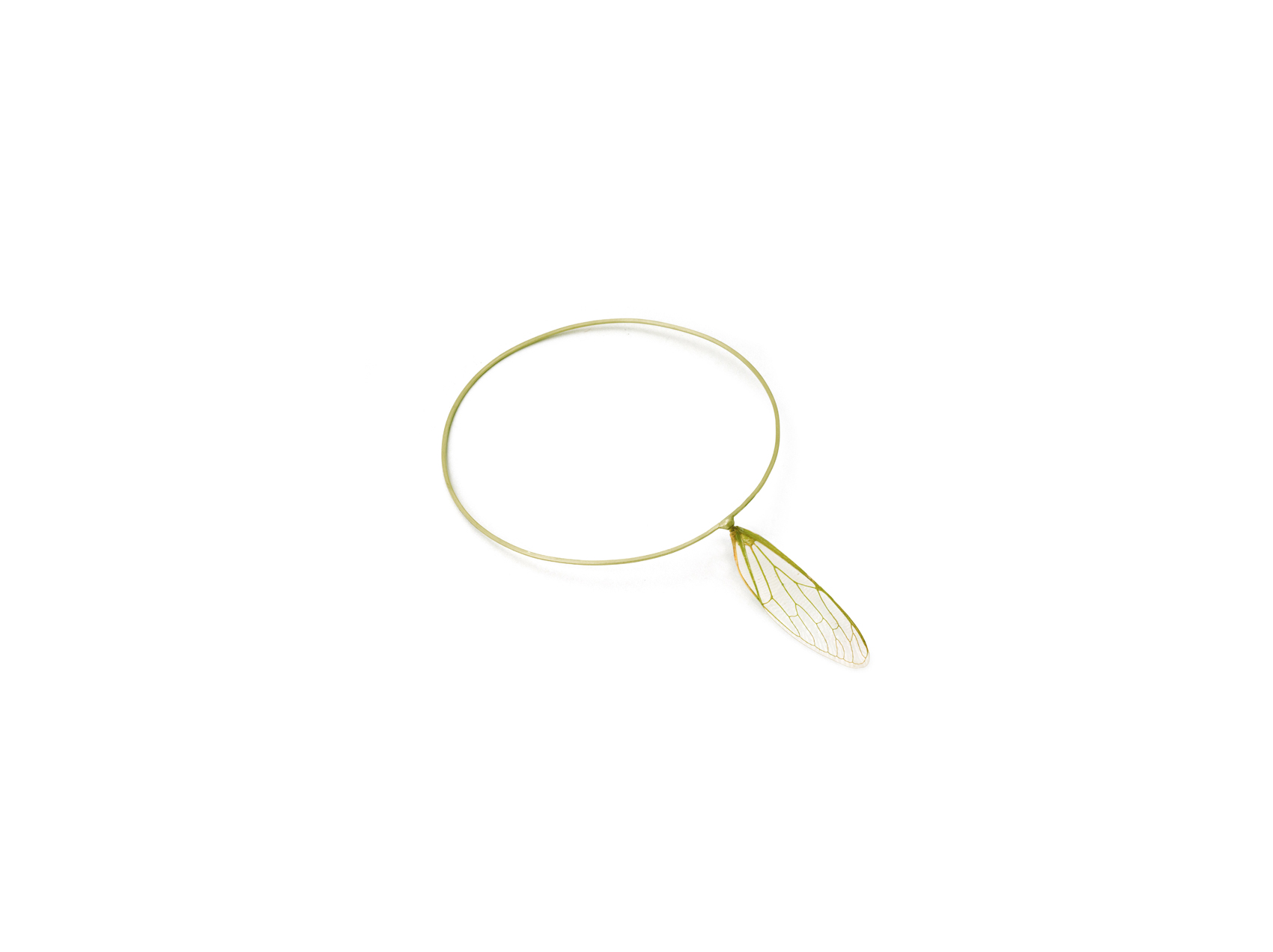 daydream series
A psychologist once told me that sometimes, the brain can be processing so much that it just can not handle anything more, and that is why a person can just sit there, seemingly not doing anything, for hours and hours. She said it is a symptom of grieving, and to mistake that for laziness is like mistaking a shark for a dolphin. After that, I began to give more credit to, and treat with care, the moments spent seemingly not doing much.
The found cicada wing I have owned for several years is so fragile that it is carefully wrapped in tissue and put away in its own drawer. I take it out sometimes to check its state, and each time, I am relieved to find that the wing is still as it was before. I suppose this is expected as it is so carefully stored, but at the same time, I am amazed that such fragile, natural item can remain unchanged for so many years.
In this project, I have designed a series of wearable objects, each featuring a found animal component and a precious metal or a precious metal alloy. The juxtapositions of these contrasting elements create sculptural forms to decorate the body, their wear suited however, for limited occasions of non-activity such as daydreaming, due to their extreme fragility.
Daydream series celebrates the quiet moments in life, provoking thoughts on material value and validity of a wearable item so fragile in nature.
Daydream series is a continual project, and will extend over time.
Daydream Series 01 (cicada wing)
2013
neck piece
18k green gold, cicada wing

Daydream Series 02 (bird feather)
2013
ring
shakudo, bird feather

Daydream Series 03 (scampi arms)
2013
earrings
sterling silver, scampi arms

Daydream Series 04 (sea urchin test)
2014
ring
sterling silver, sea urchin test

Daydream Series 05 (human baby teeth)
2014
ring
18k pink gold, human baby teeth

Daydream Series 06 (ladybird wings)
2014
ring
oxidised sterling silver, ladybird wings