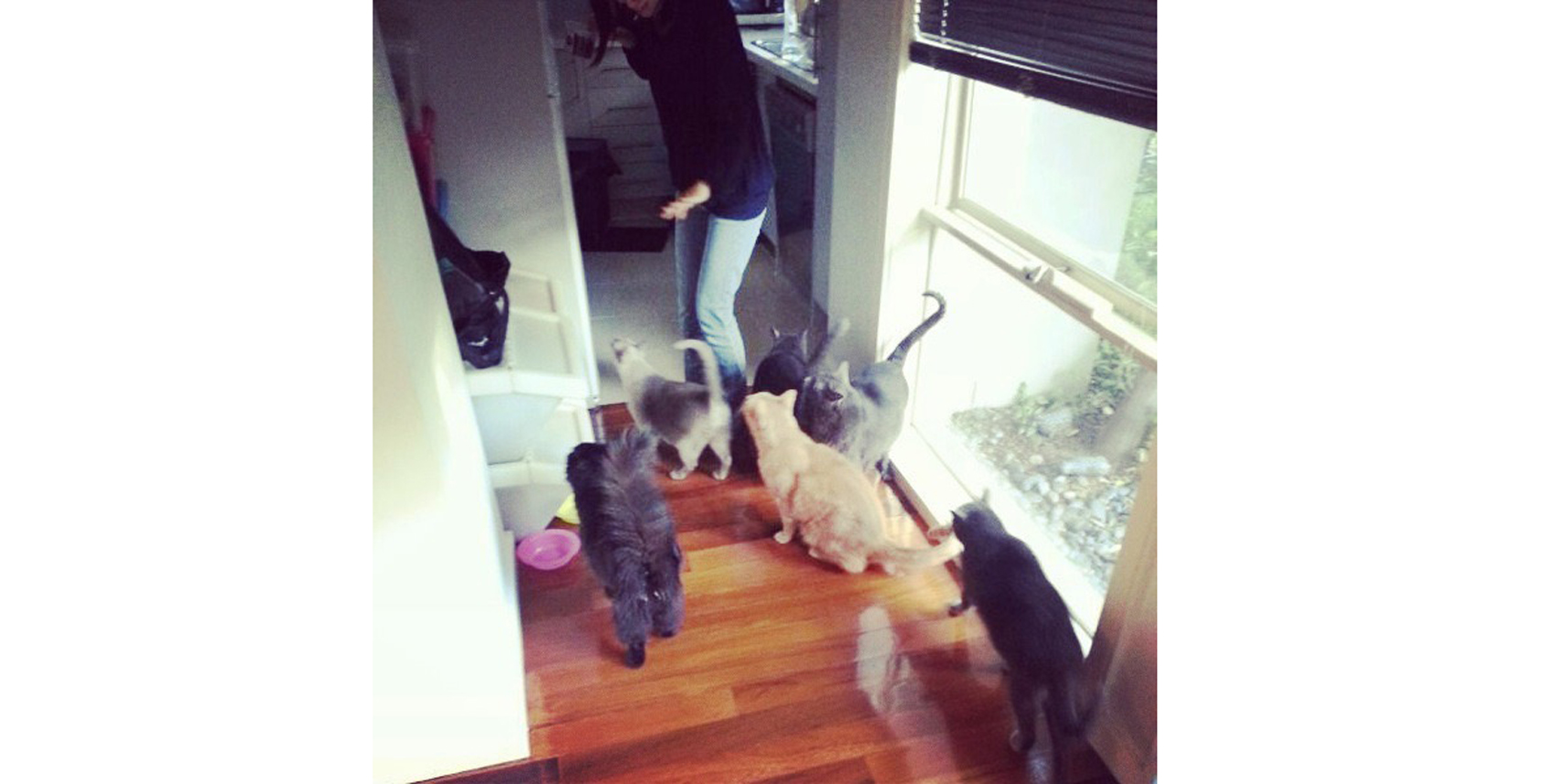 Stack Rings for Gavin
One day, my friend asked me if I can look after her seven cats during Chinese New Year. I have an interest and fascination for animals, but it's also true that I'm scared of them. I told my friend that it could be a wonderful experience, but I don't think I can do it. She told me not to worry, that it's really easy, the cats would love me and that she is thankful. That's how I came to be introduced to a community of seven cats.
My friend told me that there is a boss, a mum, a dad, a step-dad and three brothers. As the seven cats mostly had Cantonese names, and also because I couldn't tell apart the three brothers, in my mind I referred to them by their colours- kuro, shiro, orenji, grey, grey, grey and grey (although his name Momo sounds like the word pink in Japanese). Grey (Momo) was a hikikomori and lived by himself in a bedroom, while the six others occupied everywhere else.
Being stared at and followed by so many cats was a much more scary experience than I had imagined. I asked them to please not bite or scratch me, but in case they didn't understand, I always put on extra thick clothes and gloves even though it was February. They did seem to understand and never tried to bite me. In fact, they seemed to understand a lot of things.
One time, the ginger cat decided to hide, and I searched around the house, calling out his real name Googoo. The other cats all sat staring at me, but when I really couldn't find him, the white cat walked over to the front of the house and stared at me from there. When I still couldn't see him, she moved closer to a shelf and said a short meow. Googoo was behind the shelf.
Another time, I got so sick of cleaning that one poo left outside of the litter every day and told them that this is not acceptable. I asked them who is doing this. They stared at me, but when I pressed on, five cats simultaneously turned their heads to Googoo. Googoo looked at the floor.
The cats and I were all quite stressed during that Chinese New Year but I felt that we slowly bonded; so it was a sad news for me that the cats were migrating to Hong Kong with their owners, and no longer living all together.
Last year, the black cat passed away, and my friend asked me to make a piece of black jewellery. I suggested a set of rings in the colours of the cats, including black. It's rather simplistic, but I thought it would be lovely to encapsulate in an object the memory of the unique group that they once were.
The design was drawn from my previous work 'Crow, Sesame and Char'. Seven metals were carefully selected to complete this set of rings.
Stack Rings for Gavin
2016
18k rose gold, 950 silver, 800 silver, titanium, 950 palladium, zirconium, treated zirconium